Hey, Matt here.
Welcome to a new week AND to the new readers since last issue. A reminder that you can find me on the web and on Threads, which is becoming quite the fun social network.
Thanks for joining me - now, onto the good stuff!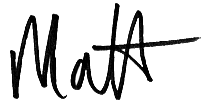 ---
Monday Motivation. Let this week be the one where you increase your personal discipline, and see what benefits it can bring your career.
Dump. One tried and tested way of dealing with stress or overwhelm is to do a full brain dump. It's much easier than it sounds! This technique will help you master the Brain dump with a trigger list.
Reflection. We spend entire days moving without pause, reflection gives you an opportunity to look back on what is working and where you can make improvements. These practical steps are a guide to reflection, and how to do it.
Rules. The 10 rules of being human. Not passed down from Sanskrit, but written in the 1970's by Cherie Carter-Scott. Still worth learning!
Stuck. 3 questions to get unstuck and start making progress. I particularly like #3 as a way of reflecting on the things that make me discontent.
✍️
Journal Prompt:
What are some ways you can bring more positivity into your daily routine? (
More prompts here
)
---
Tools. 1000 tools, carefully curated and tested by humans to make sure they work for you and your business.
Movies. Taste.io is a clever tool that will help you decide what to watch next. Just answer a few simple questions, and the site will recommend some movies on the services you have available.
Monkeys. How long would it take infinite monkeys to type your name, or a phrase of your choice. How about 1 billion? This site will do the maths for you.
Radio. 230 countries, 65000 Radio stations - tune into anywhere on One Stop Radio.
Tolkien. Antidepressants or Tolkien? I don't think this needs any description.
Finally. Cortextual. A daily game that will frustrate and amuse at the same time.
---
🔈 Stuff to Listen to...
🎧 This week, my aural treat is a live show, recorded at Alexandra Palace earlier this year by Kieran Hebden, aka Four Tet.
After draping the venue in thousands of strings of lights, Four Tet ran through a back catalog of dancefloor friendly ambience surrounded by a three-dimensional light show.
This recording mixes crowd noise into six 'movements' that wrap up the live show into an excellent package to listen to. If you want to see how the amazing light show looked, this You Tube video has some great clips.
Stuff someone said.
It's not what you look at that matters, it's what you see.
Henry Thoreau