Hey, Matt here.
Welcome to a new week. Welcome to the new readers since last week. A reminder that you can find me on the web and on Threads.
Thanks for joining me - now, onto the good stuff!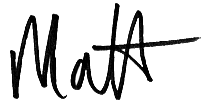 ---
Monday Motivation. Let this week be the one where you increase your performance at work, by understanding the performance paradox. Hard work doesn't always mean better performance. (Big Think)
Resistance. Make a list of the things you are resisting doing, and each day pick one. A simple hack for overcoming mental resistance. (Chris Bailey)
Happiness. Harvard University has been studying what makes people happy for over 75 years, and they have some fascinating insights. It's not the things you think it is that make a good life. (Science of People)
Rewire. How daily mindfulness habits can rewire your grey matter and make significant changes in your brain. (BBC Future)
Social Media. I quit social media and lived to tell the tale. A first person report on the addictive nature of social media, and what happens when you log off. (Dame)
✍️
Journal Prompt:
What are some positive things about yourself that you love? (
More prompts here
)
---
Sleep. Learning to sleep like a soldier could be a useful skill to protect against the impact of being sleep deprived. This military technique will help you drop off under any conditions. (Big Think)
Safari. Take a break from your day, and go on an online safari. This site has live wildlife webcams from around the world. I guarantee something interesting is happening.
Lightpainting. The Inner Landscape is a cool series of photos taken on an iPhone 15 that highlight some magical places with clever light painting techniques. (instagram)
Inception. Clever example of how to play with your eyes and your brain as you scroll around this Inception inspired landscape. (Active Theory)
Finally. Play the Checkbox Olympics. My best is 2mins 55secs. Can you beat me?
---
🔈 Stuff to Listen to...
🎧 This week, my aural treat is the new album from Ciara Mary-Alice Thompson better known as CMAT, and Irish singer-songwriter. 'Crazymad, for me' is a fantastic collection of 12 songs, super smart and tinged with country music.
Highlights for me are the excellent duet with John Grant on 'Where are your kids tonight' and the excellent opener 'California' as well as the electrifying 'Rent'.
Highly recommended listen.
Stuff someone said.
"When you do something beautiful and nobody notices, do not be sad. For the sun every morning is a beautiful spectacle and yet most of the audience still sleeps'
John Lennon