Crate Digging in Berlin
A weekend of vinyl hunting in Germanys biggest city with amazing record shops and some decent finds.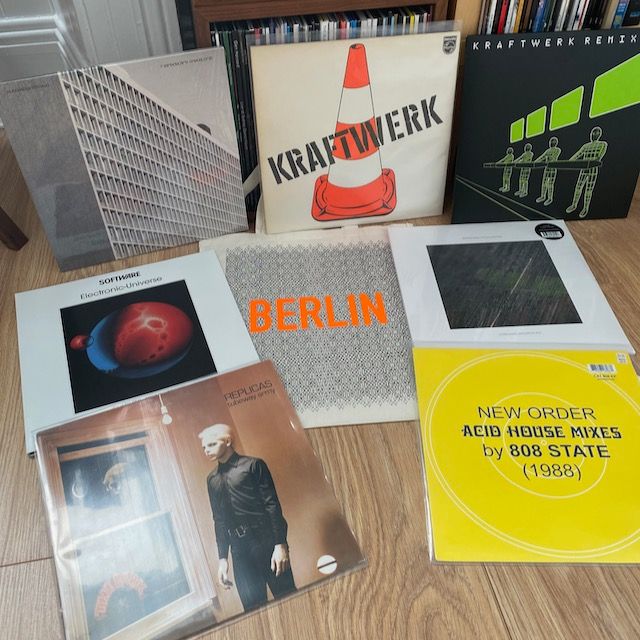 Table of Contents
Last weekend, after much discussion and a bit of planning, I was lucky enough to go on a vinyl buying and research trip to Berlin with vinylvinylvinyl.ie supremo Dave Redfearn, and another frequent customer Ian Nutt.  We travelled out on Friday evening, planning a couple of days of crate digging, as well as some photo walking and a couple of beers along the way.
I won't bore with travel and hotel details but will focus on the record stores and the various finds along the journey.
A key point to note, most things are closed on Berlin on Sundays, so if you plan a trip, take that into account as you map out your visit.
Saturday - distance covered: 17.1km / record shops visited: 4

HHV Records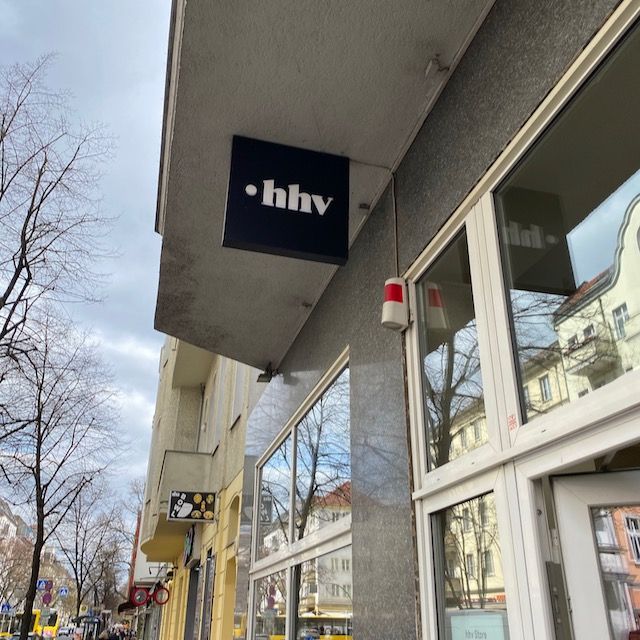 HHV is a bit of a vinyl mecca, with a massive online presence and thousands of records available, as well as a fantastic physical shop based in Grünberger Straße. We found the shop easily, which is split into two sections, one selling urban clothes, books, bags and gifts, and then a large section of vinyl racks as well as lots of listening posts.
Music covered at HHV is predominantly new with a broad range of electronic, dance and techno as well as an excellent selection of hip hop and R&B.   There is a friendly, young crowd in the store, and we met record shop owners who had made the pilgrimage from Amsterdam to buy wax, as well as families and vinyl junkies from across Berlin.
Tunes playing in the shop were some nice throbby electronica, and it made a good background as we flicked through some well curated vinyl.  Pick-ups for me included the new Kraftwerk - Mixes triple vinyl package, an eighties electronica double album called Electronic-Universe by Software and an ambient project from Strië & Scanner called Struktura Revisited.    The shop vibe was very chilled, prices were competitive and service in the shop was excellent, with the offer of a beer after we paid.
My rating - 5/5 - any trip to Berlin without visiting HHV feels like a waste to me, I'll be back.
Audio-In Used Record Store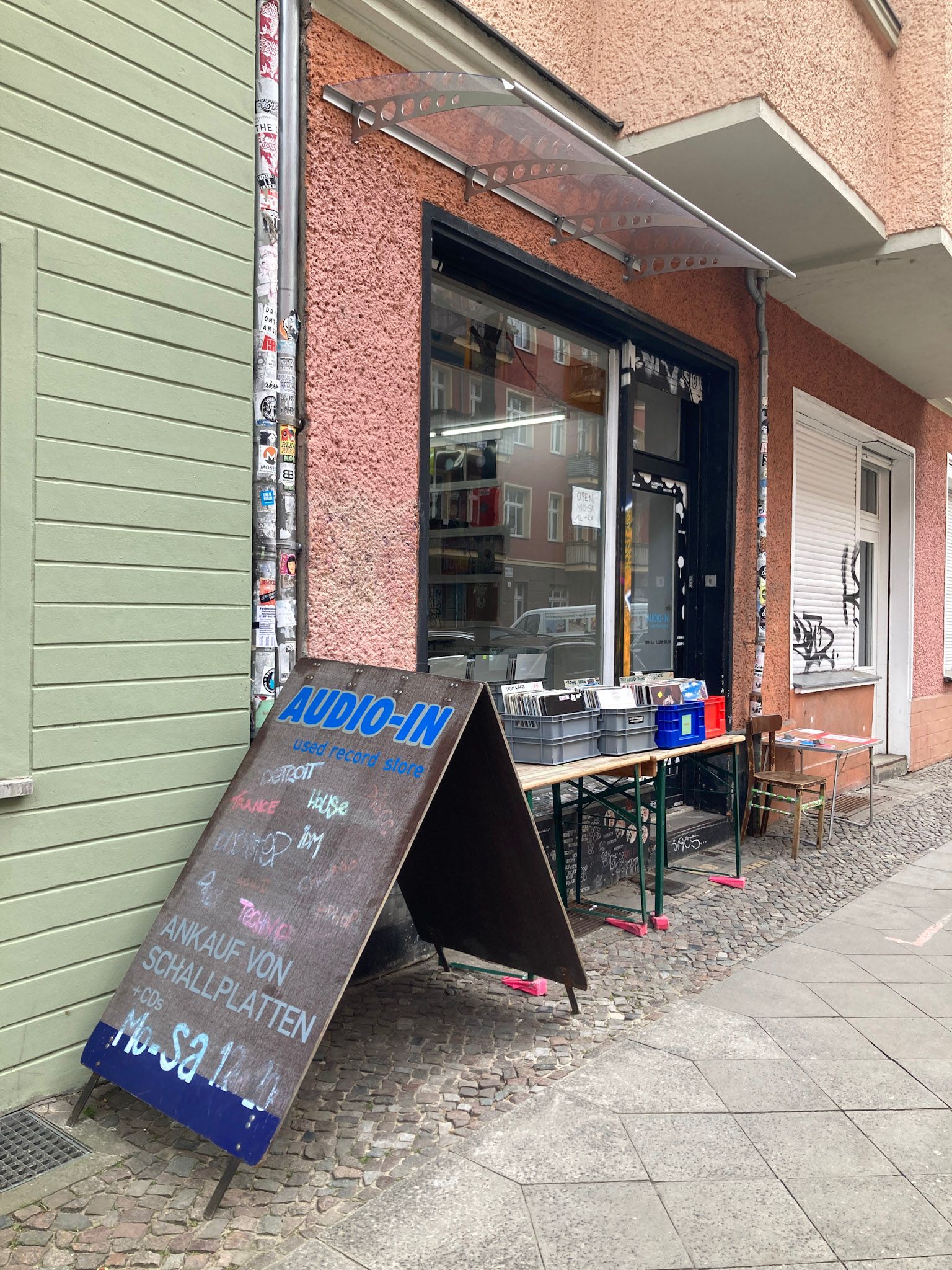 From HHV, it was just a short walk to our second stop Audio-In Used Record Store, a compact but busy shop that specialised in electronic/techno and had decent collections organised by genre and label.  I really like this way of browsing that allows me to home in on specific labels I know I like.   There were listening posts alongside one-side of the room, and while we were there the shops was doing a bustling trade of people selling as well as buying vinyl.      
After we stepped in, we were asked to put our bags at the counter, I suspect that the shop has been stung before!
There was a steady stream of nice electro playing while we were browsing, and I could see myself seeking out many of the shop tunes if I spent a while there.   I ended up with a couple of picks in the shop, a 12-inch copy of New Order - Acid House Mixes by 808 State on Rephlex Records and a German copy of Replicas by Gary Numan to replace a copy that got damaged in a house move. It's one of my favourite albums, and so I'm pleased to have a nice clean copy back in my collection.
My rating - 4/5 - an excellent shop if you are digging for house and techno 12 inches, a little short on albums for me, but a great place to find something banging for your collection.

Vinyl a Go-Go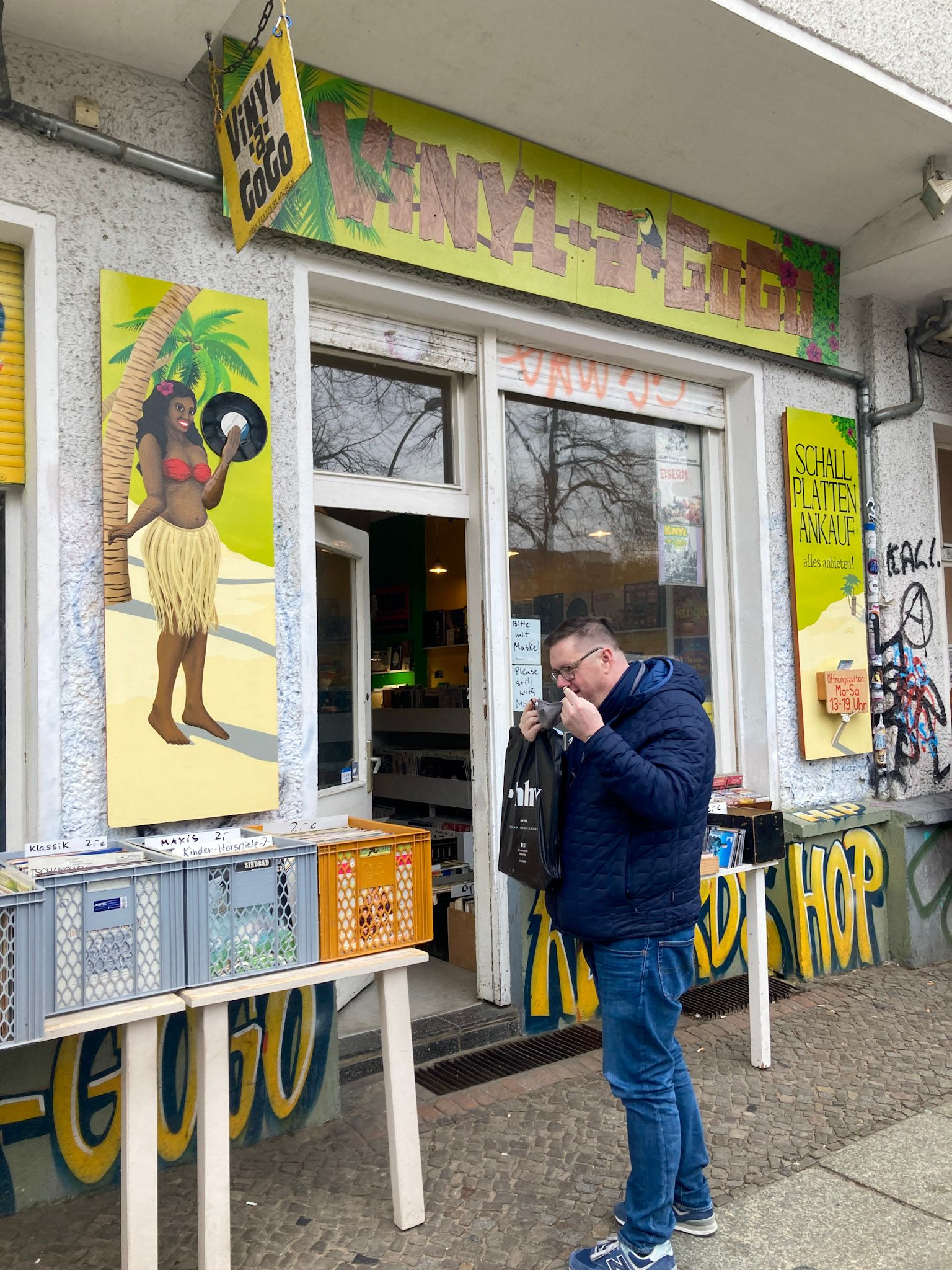 Onwards to this second hand vinyl shop, packed with a huge range of records. Everything here is well organised and labelled so that you can find what you need, with tons of digging opportunities.  There was  huge amounts of jazz, soul, reggae and R&B as well as good rock and indie sections, and lots of German focused music.  There was an excellent Krautrock selection, and some nice box sets stacked up that had some good classics and standards from Beatles, Queen etc.
Here was my standout find of the trip as I zoomed in on an original 1970 pressing of Kraftwerk 1, the very first album from a band I have grown to love.  The sleeve was displayed incongruously with a pair of 3D glasses from a much later Kraftwerk album, but the original gatefold packaging was in good condition.  
I asked to see the vinyl, and it was in VG+/NM condition and had been cleaned recently, with an original inner sleeve.   These are priced between 50 and 250 euros on Discogs, and this was sitting in the middle of that range.   After a short walk around the block to give it some thought, I went back and treated myself to this rare find, I'm really pleased that I got it and it will sit in pride of place of my Kraftwerk collection.
Pricing in Music a go-go was generally very competitive and felt in line with record fairs and other second-hand shops I had visited recently.   The selection was quite varied, and whilst there wasn't a huge amount of stock that couldn't be found elsewhere, there were some good rarities to be had here and the service was incredibly good natured as I tried to bargain a bit on my big find!
For the avid crate-digger, there was vinyl everywhere including boxes under shelves on the floor and I believe that you could spend some good hours in here searching old classics and building a good selection.
My rating - 4/5 - an excellent second-hand store with plenty of great finds to be had.  Potential extra point for my personal find, which was a treat.
Wax-Art Records
We had a quick stop in here whilst exploring and found a massive selection of second-hand material well sorted out and categorised.    Focus was on older material with some good rock, soul and jazz sections and a huge section of Krautrock, Schlager, Amiga and other German stock.    Sleeve condition and quality didn't seem as high as in other shops, but there were some bargains to be had here for the focused and patient crate digger.
This wasn't a shop for me, but the place was busy, and the owner was friendly as we browsed round - the walls were lined with some nice pictures and interesting vinyl I think you could have some fun searching for standards and older vinyl here. The Soul and Jazz sections looked very populated to me with tons of vinyl arranged by genre/artiste.
My rating - 3/5 - wide selection and some definite bargains to be had here, but not enough vinyl of my personal taste.  
Sunday - distance covered: 14.5km / record shops visited: 0 (ish!)
So, earlier I said that everything was closed in Berlin on Sunday, and it's true that the record stores were closed.  However, for the avid crate digger, there is an option, the massive flea market situated in Mauerpark.
Mauerpark Flohmarkt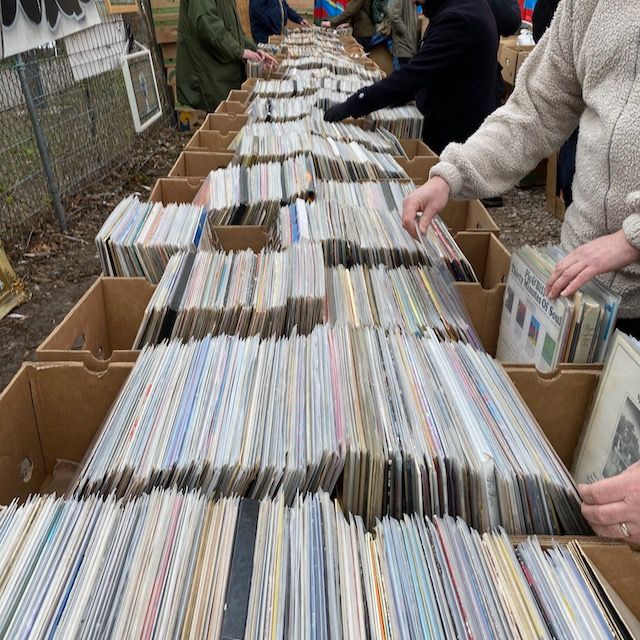 This hip Sunday Fleamarket is situated about 4km from the centre of the city, so I suggest a s-bahn ride to  Nordbahnhof and a short 20-minute walk.  As it happens this is on an interesting trail along the route of the Berlin Wall, so you can get some education on the route.
The market is big, and we found a small area outside the main market that had a MASSIVE selection of vinyl for sale.   Along a row of trestle tables were many boxes of old vinyl, largely unpriced and completely unsorted.  Quality of the vinyl was highly variable; this is real flea market territory, but we found a few interesting pieces alongside a lot of junk and fillers.
There were plenty of albums by classic artists, Stones, Beatles, Queen - alongside a smattering of dance 12 inches and a ton of German releases.  We spent a good hour flipping through here and watching the flea market around us.
Across the road was the main flea market, and in between the usual stalls of clothes and art, and a massive array of food trucks were a few record dealers with common music laid out in well categorised and sorted boxes.  One dealer had an excellent array of rock and indie, along with some dance music and a lot of German bands.  I can't vouch for the quality of the vinyl, but it was good to get out of some shops and enjoy the market.
Alongside the market there are several good cafes and an organised busker 'stage' where there was some nice music.
We did walk a short distance to see if Oye Records was open (map), but sleepy Sunday rules in Berlin!
Monday - Distance Covered: 6.8km / record shops visited: 2
We had Monday afternoon flights home, so we jumped on an s-bahn to try and see a couple more shops. Another point worth noting is that many shops don't open until 12 midday, or even later - so plan ahead.
Soundvinyl Store Berlin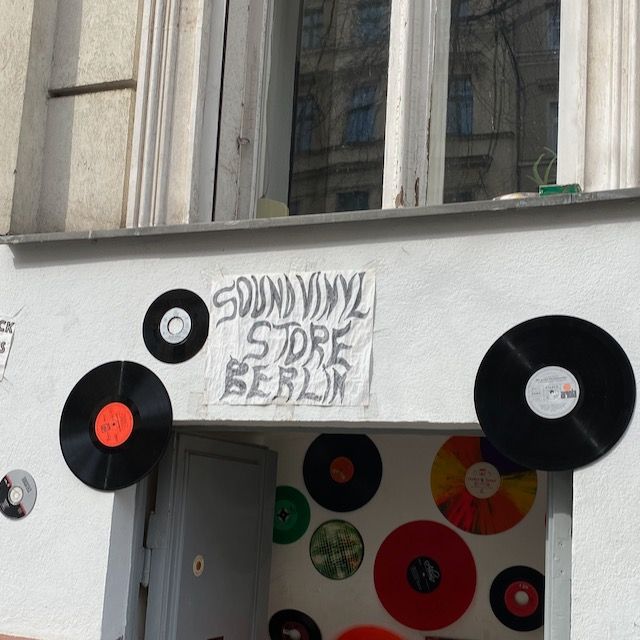 First stop on Monday was this basement store in Kreuzberg, dealing only in secondhand vinyl and a smattering of CD's.   Once again, we found a store immaculately organised and crammed full of wax for some serious digging.  There were excellent sections of Krautrock, rock, indie and electronica - as well as a lot of classical music and other genres all around the store.
We got stuck in here and I managed to find a double LP of field recordings I had not seen before, attracted by the cover I picked up Alexander Rishaug - Y (59°54′54,76′′N 10°44′46,03′′Ø) which came with a beautiful book of photographs in a lovely slipcase.  More information on this album here, but I was happy to add this to my collection on spec.
Service at Sound Vinyl was a lot of fun, with Lilly the dog making herself known to every customer and an owner that refused cards ("electronic money is the devils work") but was super polite and keen to look after us.
My rating - 4/5 - well organised, and deep cuts available here, all second hand but worth a visit if you are hunting for older vinyl.
Space Hall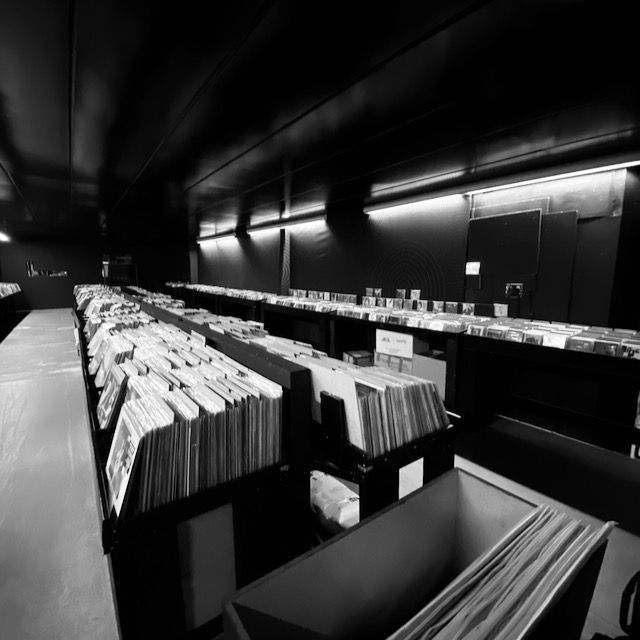 Just a short walk, and a quick coffee,  from Sound Vinyl, is another Berlin mecca for record shoppers, Space Hall. Painted all in black, Space Hall has a huge range of new and second-hand vinyl - all perfectly organised and arranged, with the really expensive items behind the counter.
This was by far away my favourite shop on the trip, catering for the styles of music that I really like and with a huge used vinyl selection to back up the new material.  I was running out of space to carry things home, so I took note of a number of records that I'm ordering by mail.
The shop was busy enough, even on a Monday morning and as well as huge racks of vinyl, they have a selection of clothing, record bags and other music related items for sale.  We spent a good hour flicking through vinyl here, and I made a huge list of things I hadn't seen before to listen to and maybe order online.  Space Hall has a massive Discogs presence as well with over 47000 items for sale at time of writing.
I'd highly recommend visiting Space Hall if you are in Berlin and looking for vinyl, the sheer range and depth of the selection available to dig through is extraordinary, and you'll find stuff that you need throughout.
My rating - 5/5 - very well stocked and organised, a must visit for any crate diggers in Berlin.   I liked it so much, I'm going back specifically to see it!
Conclusion
We only scratched the surface on our three days in Berlin, and I know that there are some great shops that we didn't get to.  I'm planning a return visit in the autumn to catch some of the places I missed and revisit a couple on this list.  I found some great vinyl, and really enjoyed the food, sights and sounds of a new city.
If you want to hear some of the stuff that we collectively bought, listened and talked about - we made you a playlist:
Stuff that MattR's Newsletter
Join the newsletter to receive the latest updates in your inbox.